What kind of buildings We design?
our architectural design follow three principle : durability, expediency and beauty.
Build a house is a really hard task. You're investing your savings, so You want to the best in everything. You want to create a perfect building, a perfect place for your family or for your company, which is durable, cost-efficience, optimal and of course beauty.
Durability
We use only durable building materials and structures in our designs, which have got hundred years experience.
Of course We design modern structures like lightweight concrete structures, lightweight ferro-concrete structures, prefabricated structures, hibrid structures. With these two 'ideology' We found the golden mean between the past and the future. The feedbacks and experience help to our design processing and build better buildings.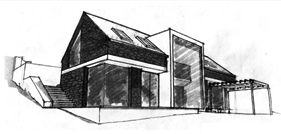 Expediency
The primary task demands the higher satisfaction. The primary task demands the higher satisfaction. Every house interact with the enviroment. The ideal building impact on people, lifestyle and psyche.
Sustainability
One of the most important thing of a building is the sustainability. With a lot of computer diagnostic and analysis software and decades of experience We can design energy and cost efficience buildings. We also have experience in passive house systems, alternative energy saving methods, special natural air-condition systems (e.g. wind towers, multi-layerd walls, isolation solutions, heat recovery, etc.)
Beauty
If you have time, please check selected works in our Portfolio. If you have any question, get contact with us.